ICI Services to Support US Navy Aircraft Carriers
July 01, 2010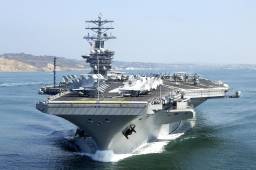 ICI Services Corporation announced that it will be part of a five-year Indefinite-Delivery, Indefinite-Quantity contract worth up to $135 million awarded to CSC to support Program Executive Office (PEO) Aircraft Carriers. Along with CSC, ICI Services will provide PEO Aircraft Carriers with program, life-cycle, business and financial management services, as well as operations support. PEO Aircraft Carriers is responsible for managing the design, development, construction, modernization and life-cycle management of all US Navy aircraft carriers. Work for this contract will be performed in Washington, DC.
ICI Services has supported PEO Aircraft Carriers and the Carrier Program Offices since 2000. Efforts performed include acquisition planning, systems engineering, test and evaluation, and program management services.
ICI Services provides engineering, test and evaluation, logistics, environmental, range and program support services to the United States Navy and Army, as well as the Department of Homeland Security. ICI Services is an 8(a) certified Small Disadvantaged and Service-Disabled Veteran-Owned Business founded in 1999. The company employs more than 350 people in 18 states.