ICI Services Awarded Key NUWC Keyport Five-Year Contract
June 18, 2010
ICI Services Corporation announced today the award of a key contract to provide financial and program management support services to Naval Undersea Warfare Center, Division Keyport (NUWC Keyport).
"This five-year, $12-million effort adds more than 35 personnel to ICI Services' growing ranks of 340-plus employees," said Mike Denny, ICI Services' Chief Operating Officer.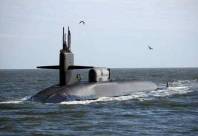 ICI Services, along with subcontractor BAE Systems, will provide financial, business, and planning support to NUWC Keyport. Work will be performed for several NUWC Keyport departments, including, the Comptroller; Maintenance, Engineering and Industrial Operations; In-Service Engineering and Integrated Logistics Support; and Systems Acceptance and Operational Readiness Department.
NUWC Keyport's sister command is NUWC Newport, RI, where ICI Services already provides administrative, financial, human resources and corporate support on several prime contracts. Both NUWC Keyport and Newport provide Fleet readiness support for submarines, surface ships, torpedoes, mines, land attack systems, and Fleet training systems.
ICI Services provides engineering, test and evaluation, logistics, environmental, range and base operating services to the United States Navy and Army, as well as the Department of Homeland Security. ICI Services is an 8(a) certified Small Disadvantaged and Service-Disabled Veteran-Owned Business founded in 1999. The company employs more than 340 in 15 states.