ICI Services Continues U.S. Coast Guard Contract
May 01, 2010
ICI Services Corporation announced today it will continue to provide the U.S. Coast Guard with Warehouse and Logistics Support Services at its Auxiliary National Supply Center (ANSC) in Granite City, Illinois. The new five-year contract calls for warehousing, inventory and material management, data administration, updates and reporting, and customer support services, which ICI Services has been performing since 2005.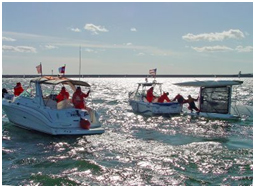 In addition to the Coast Guard, ICI Services supports other Department of Homeland Security organizations, including the Transportation Security Administration and Customs and Border Protection.
ICI Services provides engineering, test and evaluation, logistics, environmental, range and base operating services to the United States Navy and Army, as well as the Department of Homeland Security. ICI Services is an 8(a) certified Small Disadvantaged and Service-Disabled Veteran-Owned Business founded in 1999. The company employs more than 325 people in 14 states.