ICI Services to Support Navy Weapons Division in China Lake
March 29, 2010
I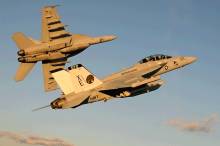 CI Services Corporation announced today the receipt of a three-year contract to support the U.S. Naval Air Warfare Center Weapons Division (NAWCWD) China Lake. Under this contract, ICI Services will provide technical, program management and information technology services in support of the Precision Attack Weapons Systems (PAWS) Technical Project Office. The work will be performed out of ICI Services' Ridgecrest, California, office.
"We are pleased to have been selected to provide support to this important Navy project," says ICI Services' Executive Vice President Jay Harrison. "We have an outstanding Program Manager in Shannon Van Meter and a strong support team. I look forward to the contributions of ICI Services and our two teammates, Synectic Solutions and Evolving Resources, will make."
ICI Services provides engineering, logistics, environmental, range and base operating services to the United States Navy, Army, and Department of Homeland Security. ICI Services is an 8(a) certified Small Disadvantaged and Service-Disabled Veteran-Owned Business founded in 1999. The company employs more than 325 people in 14 states.