ICI Services to Support Northrop Grumman
December 01, 2009
ICI Services Corporation announced today it will support Northrop Grumman on a $36 million, four-year contract at Naval Surface Warfare Center (NSWC) Port Hueneme Division in California. ICI Services will perform engineering services in support of the NSWC Port Hueneme Division's surface and sub-surface Land Attack Weapons Systems and communications. The work will be performed at ICI Services' offices in Camarillo, California, and Washington, D.C. The task order was competitively awarded under the SeaPort-e contract.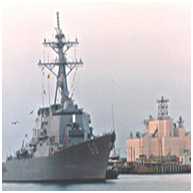 "We are pleased to be a part of the Northrop Grumman team on this contract," said Cliff Campbell, ICI Services' Vice President and Technical Director. "ICI Services will be providing test and evaluation and engineering services on surface combatant ships."
NSWC Port Hueneme provides test and evaluation, in-service engineering and integrated logistics support services to the U.S. Navy Surface Fleet. NSWC Port Hueneme is responsible for providing safe, effective and affordable operation of combat and weapon systems used on U.S. Navy surface ships and U.S. Coast Guard vessels, as well as the ships of many friendly nations.
ICI Services provides engineering, logistics, environmental, range and base operating services to the United States Navy, Army, and Department of Homeland Security. ICI Services is an 8(a) certified Small Disadvantaged and Service-Disabled Veteran-Owned Business founded in 1999. The company employs more than 325 people in 14 states.