ICI Services To Continue US Army Support in Detroit
September 21, 2010
ICI Services Corporation announced today that it has been awarded a three-year, $14.5 million contract to continue its logistics support of the United States Army Garrison-Detroit Arsenal.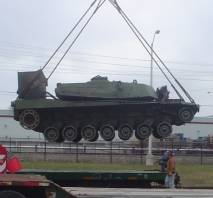 The new contract extends ICI Services' decade of logistics work with the Tank-Automotive and Armaments Command (TACOM) at the Detroit Arsenal in Warren, MI., which includes operating a 50,000-square-foot warehouse, managing inventories, disposing of excess assets, and running a Virtual Hazardous Materials Pharmacy (HAZMART) through a "one-stop-shop" location where hazardous materials are requisitioned, issued and delivered, returned and stored for proper disposal while using "just-in-time" business practices. ICI Services also operates the Garrison mailroom and package-delivery service that includes the receiving, sorting and delivering of over 20,000 items per year to 10 secure facilities.
The US Army Garrison-Detroit Arsenal provides installation management services for a joint military community at the Detroit Arsenal and Selfridge Air National Guard Base to promote current and future readiness, well-being and retention.
ICI Services provides engineering, test and evaluation, logistics, environmental, range and program support services to the United States Navy and Army, as well as the Department of Homeland Security. ICI Services is an 8(a) certified Small Disadvantaged and Service-Disabled Veteran-Owned Business founded in 1999. The company employs more than 350 people in 15 states.